"A helping hand when you need it!" Arrow Lifts are a Local Devon based company with over 50 years experience
Low Cost solutions
We offer quality stairlifts for rent throughout Devon, with an installation fee of just £350 and monthly stairlift rentals from £50 per month installed by qualified stairlift engineers.
Installation
With over 50 years in the lift and stairlift industry you can rest assured that the installation and service you receive will be to the highest standards possible.
Flexible Approach
Peoples circumstances can change very quickly, that's why you can purchase, upgrade to a new or refurbished stairlift or end your rental agreement, when you choose to.
Maintenance Included
No need to Worry about unexpected repair bills, or having to manage without your stairlift all maintenance costs are included in your monthly stairlift rental hire.
NO! Long term commitment, No Large initial down payment
Just 3 months commitment secures a stairlift rental, the majority installed within 7 days.
After our free survey, a low cost installation fee then just a 3 month commitment means you can have more freedom and mobility around your home.
We offer a service with a flexible and common sense approach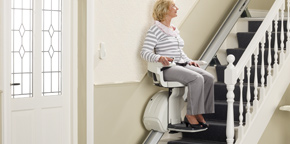 A family run company with a dedicated to customer service and customer care
We offer 24 hour callouts and they are available 7 days a week, so no matter what time of day or night it is, you can be assured of a first class service.
Stairlift rental


Low Cost stairlift rental
No maintenance costs
Low stairlift install fee
24 hour callout available
Just 3 months minimum
Stairlift upgrade options
Devon's stairlift rental experts